Saat ini anda pasti sudah banyak mendengar terminology yang disebut "Defined Storage". Teknologi saat ini sudah sangat berkembang dimana dahulu sistem komputasi sangat bergantung dengan  banyak perangkat keras. Dahulu dimana sistem tersebut hanya bisa di berikan oleh perangkat-perangkat yang berbentuk fisik dan berukuran besar. Kini sistem-sistem tersebut sudah dapat dilayani oleh software yang bekerja seperti sistem yang biasanya hanya bisa dilakukan perangkat keras.
Dahulu dan masa depan Pada Defined Storage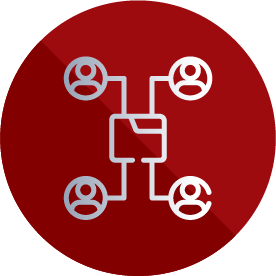 Salah satu teknologi yang mengunakan terminology ini adalah "software defined storage". "Software defined storage" adalah teknologi yang mengemulasikan perangkat simpan yang dahulu hanya di berikan dari perangkat keras yang disebut dengan Storage Attached Network atau SAN. Kini SAN dapat dilayani oleh perangkat yang berbasis software.
Menurut Wikipedia:
"Software-defined storage (SDS) is an evolving concept for computer data storage software to manage policy-based provisioning and management of data storage independent of hardware. Software-defined storage definitions typically include a form of storage virtualization to separate the storage hardware from the software that manages the storage infrastructure. The software enabling a software-defined storage environment may also provide policy management for feature options such as deduplication, replication, thin provisioning, snapshots and backup. SDS definitions are sometimes compared with those of Software-based Storage."
Sehingga bisa dikatakan "software defined storage adalah concept yang terus berkembang sebagai komputasi penyimpanan berbasis perangkat lunak, dimana pembuatan dan managementnya terlepas dari keterikatan terhadap perangkat keras tertentu.
Banyak Data = Storage Besar?
Kebanyakan pasar dari perangkat penyimpanan berskala "enterprise" dilayani oleh "external storage array" yang biasanya berukuran massive, dibuat untuk fungsi dan kerja yang sangat spesifik, sangat kompleks, dan dengan harga yang sangat mahal.
Besar = effisien?
Salah satu teknologi yang menggunakan "software defined storage" adalah VMware VSAN. VMware VSAN melakukan pendekatan terhadap "Software Defined Storage"dengan penggunaan yang lebih sederhana dan lebih efisien. VMware VSAN menggunakan kemampuan yang secara bawaan sudah disediakan melalui hypervisor (ESXi).
Model yang di tawarkan "software defined storage" dari VMware VSAN berbeda. Yaitu dengan merubah pola pikir pengguna, dari apa yang kita butuhkan menjadi apa yang dapat dimaksimalkan. Dahulu proses ini harus dilakukan dalam proses yang cukup panjang.
VMware VSAN memanfaatkan operasional yang lebih efisien semudah pengunaan virtualisasi di dunia komputasi. Dengan menggunakan VSAN sebagai "Software-Defined Storage" maka akan memungkinkan anda untuk siap dengan resiko kendala yang di hadapi sistem penyimpanan saat ini.
Dengan VSAN maka tidak dibutuhkan lagi RAID, namun hanya sekumpulan disk. Saat VSAN di aktifkan maka satu datastore yang dipakai bersama akan di tampilkan. Setiap host dapat berkontribusi pada datastore tersebut dengan syarat memiliki minimal 1 SSD dan minimal satu spindle disk.
Dengan VSAN setiap host yang memenuhi kriteria tersebut dapat bergabung untuk menciptakan 1 datastore besar yang ukurannya mengikuti dari jumlah sumberdaya yang diberikan oleh tiap host.
VMware VSAN sudah terlindungi secara fisik dengan konfigurasi setiap node memiliki redundant resource. VMware VSAN juga memiliki kemampuan untuk menangani problem saat terjadi masalah pada satu server. Kemampuan tersebut di  definisikan  jika terjadi 1 host atau  1 server bermasalah, maka VSAN akan menjamin dengan sebelumnya sudah membuat jumlah replika yang cukup dari object tersebut. Saat error terjadi di disk utama maka replika disk akan mengantikan data yang bisa diakses oleh user.
Kesimpulan Penggunaan Defined Storage
Maka dapat di simpulkan VMware vSphere Virtual Storage atau yang di sebut sebagai VSAN adalah salah satu solusi dari "Hyper-Converge SOftware Defined Storage"terhadap media penyimpanan dan komputasi dalam satu tempat. Dengan VSAN maka memungkinkan control dari ketersediaan dan performa yang baik dalam bayangan yang sebelumnya tak terpikirkan. Kesederhanaan dan efisiensi adalah nilai lebih dari yang diberikan oleh VMware VSAN.
Quote: Duncan Epping
Ditulis oleh: Rangga Kusuma – Cloud Consultant
Berikut penjelasan dari kami. Jika Ingin membaca artikel lainnya seputar teknologi atau ingin informasi lebih lanjut mengenai produk dari Indonesian Cloud, Anda dapat mengunjungi laman website kami Indonesiancloud.com, dan website VPS kami cloudhostingaja.com. Sampai jumpa di artikel lainnya.