Biaya Investasi –
Biaya Investasi Dollar Vs Rupiah?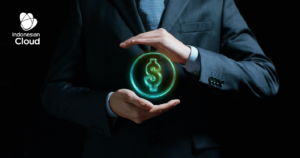 Nilai tukar dollar semakin menguat terhadap rupiah, sekarang sudah  berada di level Rp13.000 ribu dan hampir menyentuh angka Rp14.000, pasti akan berimbas kepada biaya investasi dalam pemenuhan kebutuhan infrastuktur IT Anda.
Untuk pembuatan suatu system infrastruktur  IT hampir dapat dipastikan biaya Investasi yang harus dikeluarkan relatif cukup tinggi. Hal ini dikarenakan perangkat infrastruktur IT di Indonesia masih mengikuti harga nilai tukar mata uang dollar. Coba Anda bayangkan dengan harga dollar yang sangat tinggi tersebut sekarang, berapa biaya yang harus Anda keluarkan untuk pemenuhan kebutuhan infrastruktur IT Anda saat ini?
Ditengah kondisi nilai tukar rupiah yang semakin melemah , akan semakin sulit  untuk memenuhi kebutuhan layanan IT tersebut, padahal mungkin pemenuhan kebutuhan infrastruktur IT Anda harus dilakukan sesegera mungkin.
Various Advantages of Using the Cloud
Dengan layanan Cloud, masalah biaya investasi tesebut dapat diatasi. Tanpa mengeluarkan biaya yang besar, tapi dengan hasil dan tingkat efektifitas sama atau bahkan lebih dari yang ditawarkan model IT tradisional. Cloud menyediakan akses langsung dan berkelanjutan kepada, teknologi terbaru, industri terkemuka tanpa harus secara terus menerus berinvestasi pada platform Anda sendiri. Yang paling penting layanan Cloud itu sendiri tidak begitu terpengaruh dengan fluktuasi nilai tukar mata uang tersebut karena Anda membayar layanan ini dalam harga yang tetap dan dalam bentuk rupiah.
Layanan Cloud dapat mengurangi biaya untuk  penyediaan server secara fisik, biaya perawatan, biaya sewa untuk data center dll. Dengan demikian akan mengurangi sebagian besar dari biaya pengeluaran penyediaan infrastruktur IT Anda sehingga Anda tidak perlu untuk membelanjakan dana Anda untuk data centee, sumber tenaga, pemeliharaan, dukungan teknis, penyusutan, dan "pengurasan" biaya lainnya.
Satu lagi kelebihan dari layanan Cloud adalah dalam hal pengimplementasiannya. Kalau dulu mungkin akan menghabiskan waktu selama tiga sampai enam bulan untuk pengadaan, instalasi dan konfigurasi infrastruktur IT di tempat anda, dengan menggunakan layanan Cloud Service sekarang bisa diselesaikan hanya dalam waktu singkat bahkan dalam hitungan jam saja. Artinya kebutuhan penyediaan infrastruktur Anda bisa dipenuhi saat ini juga, memangkas biaya-biaya lain yang mungkin akan semakin membengkak di tengah ketidak stabilan harga nilai tukar mata uang kita.
Cloud Is the Future!
Selain efisiensi biaya, setiap perusahaan yang ingin maju dan terus berkembang haruslah melakukan perpindahan konsep IT dari model IT Tradisional ke Cloud Computing. Sudah saatnya Anda fokus hanya kepada bisnis Anda dan menyerahkan kebutuhan IT Anda kepada pihak yang kompeten.
Mulailah untuk memikirkan memindahkan layanan IT tradisional bisnis Anda ke layanan Cloud Computing. Manfaatkan fungsi Akses data dari mana saja dan menggunakan perangkat fixed atau mobile device, penggunaan internet cloud sebagai tempat menyimpan data, aplikasi dan lainnya  yang dapat dengan mudah diambil datanya, didownload aplikasinya dan fungsi lainnya, hal ini memungkinkan Anda untuk dapat memberikan layanan lebih baik di masa depan untuk bisnis Anda.
Oleh Gita Barkah – Social Media Specialist